How to take stunning photos of everyday items
Are you someone who only pulls out the phone camera when you are on vacation, at a family gathering, or when you see a rainbow or sunset? If so, you are not alone. I hear over and over, "I never know what to photograph." In this post I want to give you a few ideas of how to take stunning photos of everyday items.
First of all, you need to look at everyday items in a slightly different way. Imagine you are from another planet. You have never seen a cup of coffee with foam on top, the patterns of cracks in the sidewalk, or the texture of a tree trunk. It's helpful to pretend you are seeing everyday objects for the very first time.
In March of 2020, I started a free facebook group called, Cellphone photo challenge by Linda Holt . It was right at the start of the pandemic lockdown. I post weekly smartphone photo "challenges" to give the members something creative to do while at home. Being in lockdown, also meant the members had to photograph items inside their home or yard.
By limiting the subject matter to only ordinary items, everyone had to rethink how they looked at everyday objects.
Check out these seven ideas of how to take stunning photos of everyday items. Photos courtesy of group members as well as myself.
1. Try a different perspective
Sometimes, simply changing the camera perspective can make a difference between a boring image and an interesting image. Group member Lisa Parker created an interesting shadow by using an unexpected perspective when shooting down on this coffee pot.
Group member Kimberly Kerl created a fabulous photo by shooting these yellow pencils using portrait mode along with a low perspective.
Rather than the usual perspective of shooting straight on to the flowers and vase, I chose to shoot down. Now the red table is as much a part of the photo as the daisies.
With no cars on the road due to the lockdown, group member Cindy Butler was able to get an interesting photo of a normally busy road by shooting from a low perspective that in any other circumstance, would have been impossible.
So often we default to photographing things straight on and at eye level. Stacey Gerner created an interesting photo of everyday garden tools simply by changing her perspective.
2. Fill the frame
Even the most plain and ordinary items can look amazing when you move in close and fill the frame. Pamela Dieckman Swingle created an interesting image of the inside of a flower pot by shooting in close and filling the frame.
Texture and details become impactful when you fill the frame.
A wet dog nose and whiskers made for a great photo by group member Tony Sabatino when she got up close and personal and filled the frame.
Paint stained walls, close up of graffiti and even peeling paint can all become works of abstract art when photographed up close to fill the frame.
3. Change your images to Black and White
Another way to take stunning photos of everyday items is to turn them into black and white photos. This works especially well with high contrast photos like this one below photographed by group member Dani Sanfilippo.
Tulips photographed in black and white is compelling because our eye expects to see color when looking at flowers. The fact that they are black and white forces the viewer to look at the composition, the shape and the lighting.
Balls of yard photographed by Michelle Krick allows the viewer to focus on the texture and shape when there is no color to distract the eye.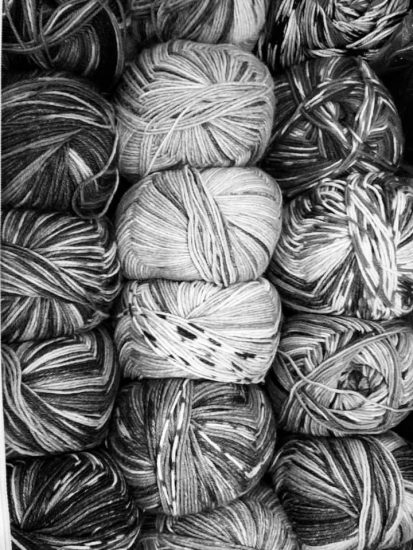 4. Negative space
Playing with negative space is also another way to create stunning photos of everyday items. This recently blown out match creates an interesting shape of smoke in an otherwise empty space.
This egg photographed by group member Shelley Hobson is an interesting study in shape and shadow. The negative space that surrounds the egg is as much a part of the photo as the egg itself.
Donna Sheaffer used clouds and color to create interesting negative space in her photo below.
5. Pattern play
Patterns are found everywhere, especially in nature. The pattern of the fern leaves makes an interesting composition. I centered the leaf so that the image also has symmetry which is always appealing to the human eye.
One photo challenge for the group during lockdown was to create a pattern using only items found in the home. This star burst pattern by group member Linda Merrill was a beautiful image using her silverware.
I created this pattern using a piece of animal print fabric, shells and a dog/snake sculpture I have owned since college.
While on a walk around the neighborhood during lockdown, I saw these outside bar chairs all lined up with no customers to sit on them since the restaurant was closed. That single tipping chair in the middle is what made the photo special for me.
6. Texture
Another idea for how to take stunning photos of everyday items is to look for texture. Rusting, peeling and weathered everyday items often are photographic gold. This old fire alarm pull on a building around the corner from my condo made for a great subject.
Melting ice from a roof above and boot prints created an interesting texture in this freshly fallen snow. I framed the shot multiple ways but this one was my favorite.
Judith Scola found this interesting wall on one of her local walks. Both the texture and the colors made for a great image.
7. Use filters and editing apps
When your creativity is just not there, sometimes using a filter or an editing app can turn a ho-hum photo of an everyday item into something special.
A photo of my dog's paintbrush tail was not all that interesting as it was.
Removing the green weeds in the Snapseed app and then turning it into a painting in Portrait Painter, I created a much more compelling image.
Here is a fun one created in PhotoLab by group member Dolly Jo
Even a photo of myself wearing a mask became more interesting once I transformed it using the Painnt App.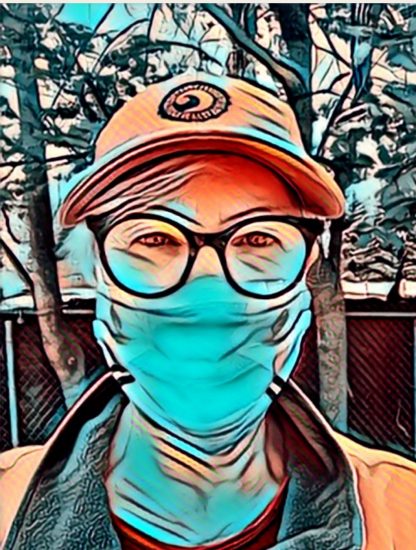 To see my favorite painting apps and how to use them, check out this post called Five Painting Apps To Turn Cellphone Photos Into Paintings.
If you want to get in on the photo fun, please consider joining my FREE Facebook group where you can practice your cell phone photo skills while getting supportive feedback on your photos. Just click on the link below.
Cellphone Photo Challenge by Linda Holt

What's in My Camera Bag?
If you want to peek behind the magic curtain and start using the exact same tools that I use, click below.
YES I WANT TO KNOW!